Calling all dog lovers! Today is National Dog Day! So grab your four-legged friend(s), their favorite tennis ball and visit your local dog park. And while you're sitting on the park bench watching your fur-baby frolic with their buddies, pick up one of these dog-themed books! (Slobber not included.)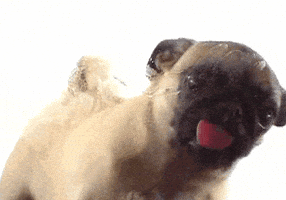 Underwater Dogs by Seth Casteel (Little, Brown & Company, 2012)
For anyone who has ever brought their pooch in a pool or a lake, you know the sight of a dog swimming is priceless, whether they know how to do it or not. But what does it look like when they dive down to the depths to reach their favorite ball? That's a sight not all of us get to witness. But award-winning photographer, Seth Casteel, has captured these colorful hilarious moments for all of us to enjoy!
Rescuing a shelter dog is a remarkable opportunity any future pet owner can be proud of. If you've ever stepped foot in a shelter then you know the stories that each of these wet-nosed furry friends have experienced just by looking into their warm eyes. In Ellen Cooney's recent novel, we experience firsthand the triumph and heartache shelter dogs bring, and how we can each find ourselves with the help from a furry friend.
After reading Lily and the Octopus, another doggy tale (see what I did there!), I was craving another story of "man's best friend." Meg Rosoff grabs you by the leash and takes you into an eye-opening coming of age story from two unlikely pals, a Border Collie and a Cocker Spaniel. If you consider yourself a cat person, this book will have you contemplating purchasing a hyper, happy, drooling pup. I mean just picture walking two dogs for the first time down the busy streets of New York City without tripping over your own feet. You'll be laughing from the first page to the last.
Just Life by Neil Abramson (Center Street, May 2016)
First of all, this book is my worst nightmare. Secondly, this book will have you glued to the edge of your favorite reading chair. Just Life is a story of survival, strength and power from a group of random misfits in order to protect our friends with no voices. You'll be crying but we promise you won't regret a single moment. Simply, Just Life is a moving novel for all animal lovers.
I mean, do I really need to explain why this book is the ideal novel for National Dog Day? If you've ever had to bring home a puppy, attempt to housetrain or pull out numerous pairs of shoes from your tail-wagging pal's wet mouth, you can completely sympathize with Marley's owners. But at the end of the day, no matter how loud they bark or how much mud they track into the house, staying mad is just impossible.
And this is just a little something extra because, cute: