As a Health Coach, I take the idea of happiness very seriously. In my practice, I help people cultivate happiness in their own lives by focusing on what I believe to be the four key ingredients to a fulfilled life:
Real, Good Food
Work/Life Balance
Self-Care
Strong Connections
Since I'm in the happiness business, I find myself fascinated by happy cultures. Denmark consistently tops The World Happiness Index as the happiest country in the world. This rating has been attributed to Denmark's welfare state. However, they share that characteristic with other Nordic countries.
The Little Book of Hygge: Danish Secrets to Happy Living (William Morrow, January 17, 2017) by Meik Wiking suggests that what sets Denmark apart from other Nordic countries is the culture they have created around hygge.
The Danes say that hygge (pronounced hoo-gah) does not literally translate in the English language. The best words to describe it are coziness and togetherness. Hygge has also been described as "the art of creating intimacy."
In reading this little book, I was excited to see that many of the key ingredients I use to cultivate happiness in my own life and the lives of my clients are very hyggelige (hygge-like).
Here's a relatable example of what Meik Wiking describes as hygge:
It's Friday and you've had the longest week. You've worked until 8 p.m. most nights, attended nightly social gatherings and you're feeling mentally and physically exhausted. Your three closest friends have been trying to get together forever and this is the one night that works for everyone. You don't want to be the friend that cancels, but you're so beat.
You offer to host a hyggelige evening at your home instead of going out and this is a scene that follows.
Your friends show up in their comfiest leggings, over-sized sweaters, each holding either a bottle of wine or artisan chocolates. Each friend immediately compliments the hyggelige atmosphere you have created. There are candles everywhere emitting a soft glow. The couches are inviting with fluffy pillows and blankets. Soft music is playing in the background. Your fireplace or yule log is going strong and there's an overwhelming sense of warmth and coziness. You each settle into a comfortable spot on the couch and prepare for a night of intimate conversation and delicious food.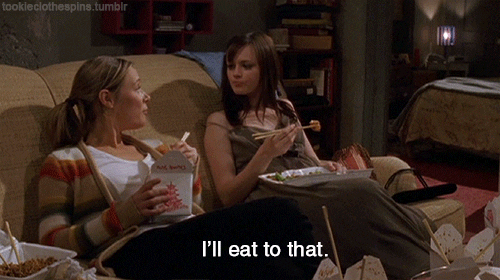 If you were hygge-purist, there would also be an aroma of hearty stew in the air but the more realistic, American version would be pizza or take-out.
The next morning you wake up well-rested, sans hangover and enjoying the afterglow of connecting with some of your favorite people. To me, that is the happiest feeling in the whole world and the Danes have created an entire culture around it.
I think we can all learn a few lessons from the Danes. Going out has its place, but creating a hyggelige atmosphere in our homes leads to an unparalleled sense of connection and togetherness. So the next time you're feeling obligated to go out, take a note from Meik Wiking's The Little Book of Hygge and invite some friends over for an intimate evening. Or better yet, hygge at home alone — that's completely acceptable as well!