High school sucked, right? Totally. Anyway, remember all those books you had to read? Turns out some of them were pretty good! Overcome your pimply PTSD and revisit some classics you may have overlooked back in the day.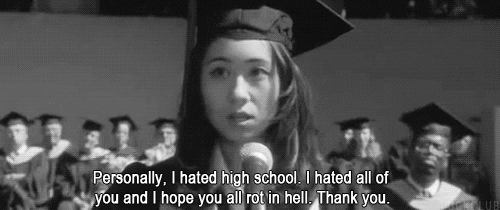 Matt's Take
Hey, who remembers high school? Because I sure don't. My terrible bouts of awkwardness and raging hormones made sure I blocked out the majority of those four years. But some memories just stick, like assigned readings, and getting rejected by cheerleading captain Joanna Michaels*. Damn, she was ice cold. If you were at all like me in high school, there were some books you enjoyed and some you flat-out hated. We enjoy doing things on our own time, not when we're ordered to. The same can be said for those pesky assigned readings. Looking back and rereading them years later, I realized how great many of those books really are. Here are three you should definitely give a second chance:
Crime and Punishment, Fyodor Dostoyevsky (Dover Thrift Editions, 2001)
I remember this one — and I couldn't stand it. Mostly because the novel is just so long, nearly 500 pages. The length alone turned me off. It's by no means a beach read either. Though, not many books about nihilistic ax murderers are. That being said, I opened it again and was blown away. So much just went over my head when I first read it. Filled with lofty drama and even dark humor, Crime and Punishment covers important questions about the inner workings of human nature. And the action scenes are pretty awesome, too.
"Drinking and being sad, drinking and being sad." That was my angsty response to an exam's essay question asking for the true meaning of the celebrated Hemingway novel. Jake Barnes wonders around Spain to watch the Running of the Bulls with a group of morally bankrupt expatriates in post-WWI Europe. I'd sigh every five pages and proclaim, "All they do is drink and watch stuff happen and some depressed guy tries to have a girl fall in love with him." But after graduating college, I cracked it open for the hell of it. Like all of Hemingway's works, so much is happening under the surface and finding that out is what makes this novel all the more enjoyable. I was hooked by the first page.
Getting rejected by Joanna Michaels* really took a toll on me. Unrequited love is the absolute worst, people. So I guess you could say I had a pretty cynical view on love and Emily Bronte didn't help with that at all. Nevertheless, several years (and two girlfriends) later I grew to admire how beautifully written this novel is. Two people fall in love but their sicknesses and their own flaws make it impossible to be together. It's tragic, gorgeous, relatable, and justifiably sappy. I mean how can you not swoon after reading: "I cannot live without Catherine. I cannot live without my soul!" I mean, c'mon.
Katie's Take
So I was a total English dork in high school. I actually relished summer reading, and really enjoyed most of the books I was made to read. It worked out because I had great teachers and classmates who really liked talking about books. It was pretty fun debating the finer points of a classic novel with a bunch of similarly-goofy and rowdy teenagers, so when (collectively) we decided that we didn't like a book, it stood out. However, with a little more life (and reading) experience, some of the old groaners turned out to be really fantastic books. I don't know if I'll ever like The Good Earth by Pearl S. Buck, but after the turnaround I've had on these books, maybe I should give it another shot.
The Bell Jar, Sylvia Plath (Harper Perennial Modern Classics, 2005)
When I first read this novel, I couldn't relate to it at all. I felt like the main character, Esther, was complain-y and annoyingly neurotic. I couldn't really understand what she was going through, which is surprising considering that I was a (gasp) teenage girl when I had to read it for school. However, the older I get, the more this book rings true; not only in its depictions of the real attitudes women have to deal with in their youth, but in the descriptions of depression and sadness. What Esther goes through is something that hopefully everyone can avoid, but delving into the unabashed sadness she's experienced can be universally eye-opening. Plus, it's beautifully written. I especially recommend it for anyone who's just out of college and feeling a little lost.
Their Eyes Were Watching God, Zora Neale Hurston (Harper Perennial Modern Classics, 2006)
This novel was a frustrating read back in my junior year. I couldn't really grasp why the main character, Janie, made some of her decisions (GIRL, WHY WOULD YOU STAY WITH TEA CAKE AFTER HE BEAT YOU). I reread this book, though, and finally realized how brilliant it is. Janie's decisions aren't always super logical, but then again, life isn't always super logical. When I reread the story, I found myself empowered by Janie's ability to rise above in the end. Despite her many tribulations, especially in her marriages, she's able to achieve enough emotional self-awareness to tell her story without holding anything back — even the uglier parts of her life. It's so great a novel that I'm actually embarrassed by how little I really liked it when I first read it.
The Awakening, Kate Chopin (Dover Thrift Editions, 1993)
When I was assigned this book, I was excited because it was pretty short. However, upon completing it I was really, really angry. I hated it. I still hate this book. It still makes me really, really angry. WE GET IT KATE CHOPIN. EDNA KILLS HERSELF AT THE END BECAUSE SOCIETY HAS NO ROOM FOR AN EMPOWERED FEMALE. Edna drowns herself because she's unable to adapt to the life of a prim housewife, and refuses to become an outcast. But what's the objectively better option than suicide? LIVING YOUR LIFE AS AN OUTCAST, EDNA. Mademoiselle Reisz was pretty cool! Mass suicide by burgeoning feminists is not the way to change society; refusing to conform is. DUH. *mic drop*
* – names changed to protect the "innocent"