If you haven't watched Netflix's Narcos yet, you need to rectify that situation immediately. It follows the story of history's most infamous drug kingpin, Pablo Escobar, whose Colombian cocaine empire made him one of the richest men in the world in the early 1990s. Season 1, which premiered in 2015, followed Escobar's life from the late '70s through the '90s, in addition to the stories of DEA agents who pursued him. Season 2 picks up right where the first part of the story left off – with a daring and ultimately vulnerable prison escape.
While we're waiting for the return of Wagner Moura's chilling portrayal of Escobar on September 2, we put together a reading list to give you even more insight into the true story behind the show, in addition to helping ease any desires for similar stories once you've binged all 10 episodes in one sitting!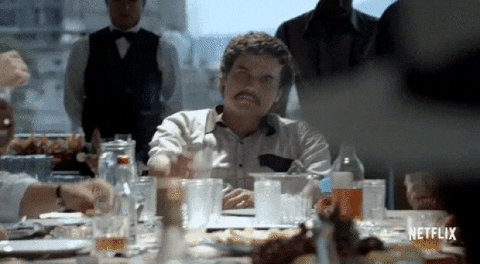 Netflix via Giphy
Narcos-like Book Recommendations
Pablo Escobar: My Father, Juan Pablo Escobar (Thomas Dunne Books, August 30, 2016)
Some of the most personal details about Escobar's story can be found in this compelling account of the man, written by his son. The book, which is linked to a 2009 documentary Juan Pablo Escobar helped create called Sins of My Father, is ultimately the story of how a man can be capable of extreme cruelty in the name of providing for his family. While the book is mostly focused on providing an intimate portrait of "the king of cocaine," it also examines the ways drug cartel culture has influenced Colombian government and life.
This crazy memoir, which inspired the 2016 movie The Infiltrator starring infamous fake drug kingpin Bryan Cranston, tells the real-life story of an undercover agent who spent years gaining entry into the world of black market drug deals. In the midst of crazy parties, expensive private jets and bottles of champagne more expensive than my car, Robert Mazur was collecting details that would one day help bring down the businessmen behind some of the world's biggest drug cartels. This book is pretty intense, and a great companion for fans of Narcos seeking stories that are in the same vein.
Ever wonder how a drug cartel works? If your answer to that question was "yes," you should look at your life and choices. Either way, this intriguing book, which takes a look at the way drug cartels use the same kinds of business tactics as large legal corporations like McDonald's and Coca-Cola, will give you all the information you need. In addition to describing unexpected and fascinating details on the operations of a drug cartel, Wainwright argues that seeing cartels as businesses is a key way for law enforcement to defeat them.
The Cartel, Don Winslow (Vintage Crime/Black Lizard Reprint, May 31, 2016)
While much of Narcos serves as a period piece (Pedro Pascal's '70s porn-stache, anyone?), what about drug cartels today? If you're in the mood for a story that explores contemporary drug cartel operations, we recommend this crime novel, which follows a drug kingpin and the man who put him away. When the kingpin escapes from prison, their 30-year blood feud kicks into high gear. Universally acclaimed, this epic story will keep you on the edge of your seat.
Main Image: Wagner Moura as Pablo Escobar in Narcos Season 1; Image courtesy Netflix